15 Minute Local Scenic
$160 pp
15 Minutes
Two fantastic experiences in one. The unique thrill of a helicopter flight and the breathtaking views of the Illawarra from above.
Tour Highlights
An ocean coastline and mountain ridgeline spectacular helicopter experience
A packed 15 minute schedule over Wollongong's beaches and Great Dividing Range
Experience the unique thrill of a helicopter take-off and landing
Departing from our beachside base only 2km south of Wollongong Harbour
Keep a lookout for whales and dolphins
Informed commentary from your friendly pilot
A comfortable helipad viewing lounge for all your family and friends
Free tea and coffee before and after your experience
Itinerary
Wollongong Harbour
North Beach
Bellambi Point
Brokers Nose
Mount Keira
Wollongong CBD
Detail
You'll be amazed at how much you get to see in this short scenic flight. But over its 15-minute duration we're going to give you a good look at two aspects of Wollongong that make it such a loved location by residents and tourists alike. The mountains on one side and the ocean on the other.
Your helicopter flight will depart from our base at Wollongong Heliport, located on the coast just 2km's south of Wollongong Harbour. Even before you clear the grounds of the heliport you'll already be able to see the lighthouse at Flagstaff Point and the coastline beyond.
Climbing out of the heliport to a height of about 1000ft, Wollongong City Beach will be underneath, a 3km stretch of white sand that is one of The 'Gong's most popular beaches for both swimmers and surfers alike.  As we continue to fly along City Beach, watch out for the modern day gladiatorial beachside coliseum and home to the St George Illawarra Dragons, WIN Stadium.
Although the temptation is to look down and around underneath you, make sure you look up every now and then. On a clear day you can see all the way to Jibbon Point in the Royal National Park which is only 15kms from Sydney International Airport.  Looking south, the view is consumed by Lake Illawarra, the coastline down to Kiama and the meandering Illawarra Escarpment ridgeline all the way to Saddleback Mountain near Jamberoo.
Still only minutes after departure, you'll be flying over the beating heart of The 'Gong. Wollongong Harbour is a working harbour with fishing trawlers regularly departing, arriving and unloading but also with cafes, restaurants, walking paths, cycles paths and coffee shops for the connoisseur. The Harbour is a tourist mecca for visitors to the area. You'll see it from the air and only a 5-minute drive from our heliport will get you amongst it all when you are back on the ground.
The lighthouse on top of Flagstaff Point has been warning off ships from the rocks below since 1936. Today it presides over the headland, keeping its big glass eyeball on the surfers, swimmers and divers below. Wollongong Harbour's second lighthouse sits nearby in retirement since 1937. Known as The Breakwater Lighthouse it was been restored back to full function but now just provides shelter and company for the fishermen snagging their lines on the rocks at the harbour entrance.
Home to the Novotel, Skydive the Beach, Diggies Cafe and The Lagoon Restaurant – just north of Wollongong Harbour is the other local tourist hotspot, North Beach. A great spot for a surf and a swim on a hot summers day and quite often host location for beach volleyball, beach soccer and beach netball (if just laying in the sun isn't your thing).
From the air, seemingly an isolated area of bush, Puckeys Reserve was traditionally used by the Wadi Wadi aboriginal tribe of the Illawarra but has had several rebirths since the early 1900's. Purchased by Mr Courtney Puckey in 1905, he set up an experimental saltworks with some of the site remains still visible. Today it is used by fitness fanatics seeking their daily fix underneath the treetop canopy which provides cool shade along its paths during summer months. Now a nature reserve, 136 species of birds provide them company.
Flying northwards along the coastline, we'll reach Bellambi Point before turning inland for a closer look at the Illawarra Escarpment. Bellambi Point is a significant aboriginal cultural and spiritual location. During construction works there in the late 1800's several aboriginal skeletons were uncovered realising the area as an ancient indigenous burial ground of the original Wadi Wadi tribe. Lookout for Bellambi Lagoon, part of a small reserve protecting native flora and fauna including a pair of resident White Breasted Sea Eagles.
As we turn overhead Bellambi Point westward towards the mountains, next on the itinerary is Brokers Nose. A well known local feature and landmark, at 1440ft, it is easily identifiable by the television antennae sitting atop its most easterly prominence. Brokers nose is also the objective location of many of the walking tracks to be found atop the escarpment. It is one small part of The Illawarra Escarpment which stretches from the White Cliffs of the Royal National Park all the way down to Saddleback Mountain at Jamberoo.
As we approach Mount Keira you get a unique perspective on this "eroded sandstone outcrop"  standing tall & proud over Wollongong City. Aboriginal dreamtime legend says that  Mount Keira was originally "Geera" daughter of Oola-Boola-Woo and one of six sisters, five of which became the "Five Islands" off of the coast of Port Kembla. As you fly past the summit of Mount Keira, you will see the scenic lookout  1522ft above sea level, home to a pop-up cafe and starting point for the myriad mountain-biking trails that criss-cross the mountain.
And now with the whole of the Illawarra laid out in front of you it's time to descend down past the Wollongong CBD and back to base at Wollongong Heliport. Don't put away your camera just yet though, the great views are there to admire all the way down to the helipad.
Route Map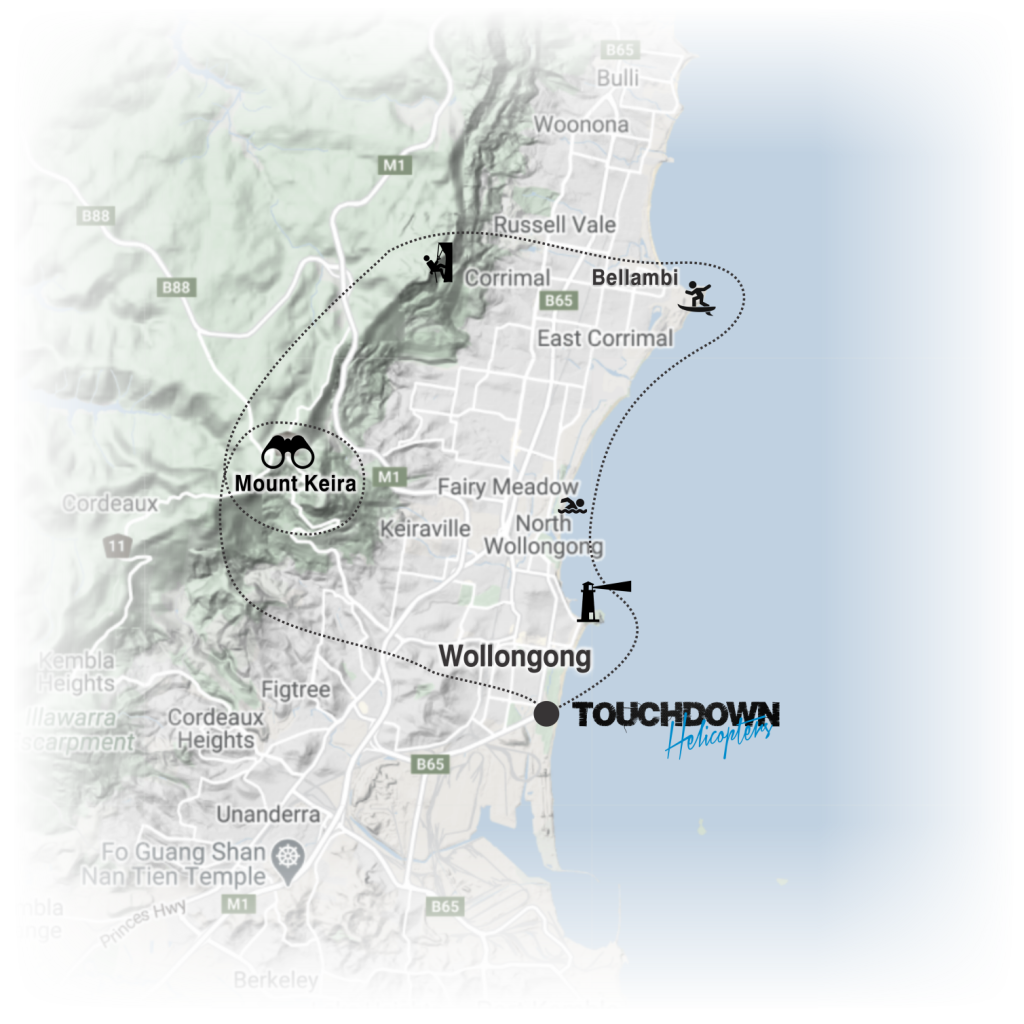 Additional Info
Headsets are available for all passengers inside the helicopter so that they can talk to eachother and share the experience while flying.
Feel free to engage your friendly pilot for his informed narrative and commentary
Customers should allow 45 mins in total for the whole experience including check-in, safety briefing, photo opportunity around the  helicopters, boarding, flight time and then disembarking after flight.
Free tea and coffee facilities, as well as a comfortable viewing lounge overlooking the helipad, is available for all passengers as well as for family and friends spectating on the ground.
Safety is paramount. All safety processes and procedures as required by Touchdown Helicopters and the governments Civil Aviation Safety Authority (CASA) are strictly adhered to in all aspects of conducting this scenic flight.