Situated in the heart of the Illawarra region of NSW, and less than 2 hours drive south from the centre of Sydney, Touchdown Helicopters base is located at Illawarra Regional Airport. Our modern facilities comprise 2 x large hangars, a training & briefing room,  an office complex, 3 x bedrooms for pilot accommodation, a fully equipped kitchen and a lounge room with large screen smart TV. All office and guest accommodation area's have internet connectivity available throughout.
Main Terminal
Once you arrive at Illawarra Regional Airport, finding us is easy. Our office building and hangars have our logo attached in plain view. Simply walk through our front door and into our reception area.
Our 2 storey main terminal building comprises
Downstairs
Main Office
Reception
Lounge Area
Kitchen
Public Toilet
Upstairs
Training Office
2 x Guest Bedrooms
Guest shower & toilet
Lounge & Reception
For guests attending our base as specatators to watch familiy and friends taking joyflights, or for student pilots staying with us as guests while training, our lounge and reception area is a home away from home.
For your every requirement during your stay with us, this area is located adjacent to kitchen and toilet facilities. Guests can make a cuppa in the kitchen and then sit back and relax to enjoy the flying activities from the lounge or even step out into our outside viewing area to get a bit closer to the action.
For student pilots staying overnight our base is connected to the internet via the NBN at 50Mbs. So feel free to connect to our Wi-Fi for all your network requirements.
If you prefer your entertainment on the big screen then we have a network attached 50 inch Smart TV running Netflix, Stan and other online streamed services as well as live free to air TV.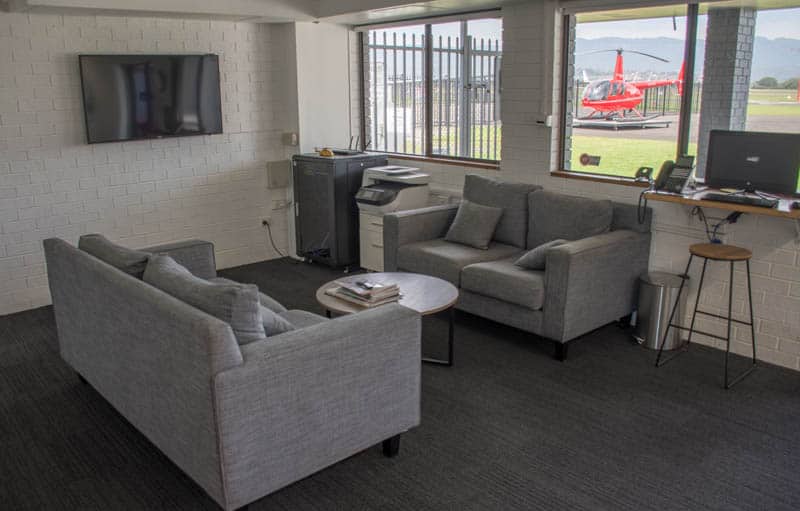 Kitchen Facilities
For guests staying overnight or longer, our kitchen offers every appliance you have in your own home.
Fridge /Freezer
Cooker – inc oven and grill
Microwave
Toaster
Coffee and Tea making faciliities
Pantry
Assorted tableware & cutlery
Basic food supplies and condements
Guest Amenities
Guest Bedrooms
All bedroom linen is laundered and fitted fresh daily.
Each bedroom has either wireless or cabled internet connectivity   available
Telephones are available in each room for local & domestic calls
Shower and Toilet
Shower and toilet facilities are adjacent to each to bedroom
Fresh towels are supplied daily
Laundry Facilities
Laundry facilities including washing machine and dryer are also   available for guest use
Washing powder is provided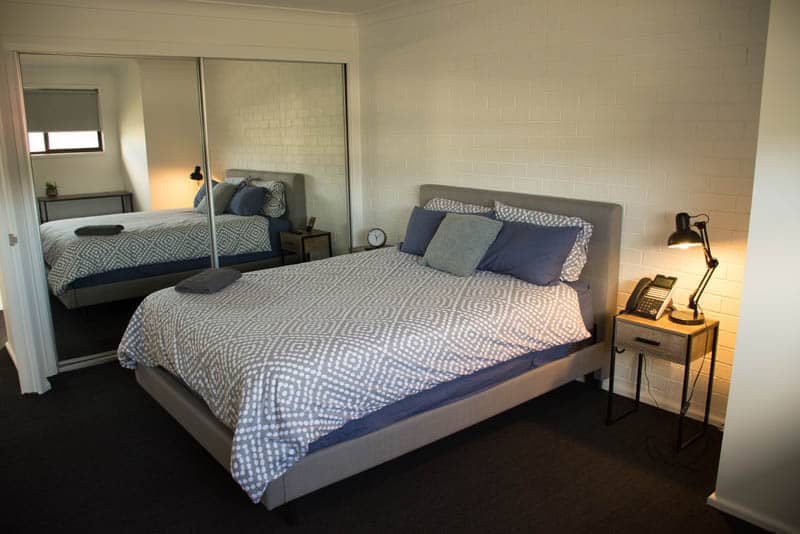 Training & Briefing Room
For student comfort, our training and briefing room is airconditioned
Main Hangar
Main Hangar Usable Floor Space – 450m2
Contains
Storeroom
Laundry Facilities – Washer and dryer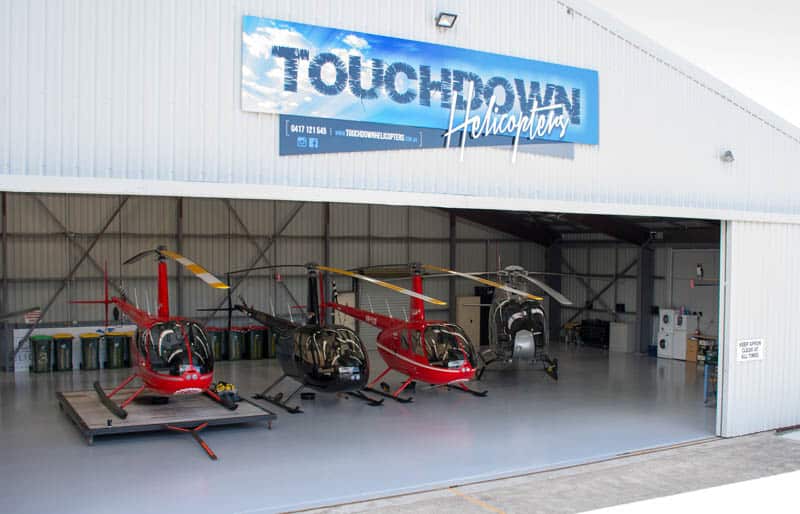 Utility Hangar
Usable Floor Space – 418m2
Contains
Training & Briefing Room
1 x Guest Bedroom